Butter London
Patent Shine 10x Lacquer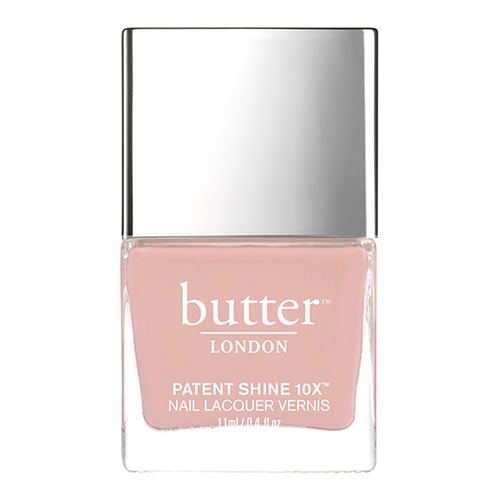 $31.00
$31.00
$31.00
$31.00
$31.00
$31.00
$31.00
$31.00
$31.00
$31.00
$31.00
$31.00
$31.00
$31.00
$31.00
$31.00
$31.00
$31.00
$31.00
$31.00
$31.00
$31.00
$31.00
$31.00
$31.00
$31.00
$31.00
$31.00
$31.00
Shop Girl
Ta Ta!
Coming Up Roses
Over The Moon
Brill
Dapper
Rather Red
Twist and Twril
Candy Floss
Chat Up
British Khaki
Tea Time
Dearie Me!
Mums The Word
Jolly Good
Broody
Her Majesty's Red
Pink Knickers
Fancy
Flusher Blusher
Loverly
Smashing
Fruit Machine
Trout Pout
Molly Coddled
Afters
Yummy Mummy
Toff
Tea With The Queen
Free Delivery above $40.00
About

Our innovative Patent Shine 10X formula is loaded with ingredients proven to promote brighter, stronger, healthier nails for your best-dressed nails yet. The patented Shock Resisting Polymer Technology delivers limitless shine with up to 10 days of wear. It's everything you need in one brilliant bottle!

Benefits

Shock Resistant Polymer Technology: Unique polymers that bind together to create elastic characteristics for long wear and chip resistance
Radiant Curing: Hardens and dries with natural light for extended wear up to 10 days
3-Fold Polymer System: Provides gel-like cushion and superior shine
Maximum Pigment Concentration: Allows for vivid true colour and salon quality coverage
UV Absorbers: Help prevent colour fading
Bamboo Extract: Helps promote stronger nails and prevent breakage and peeling for healthier-looking nails
Diamond Powder: Visibly brighter, more radiant
Curved Brush: Dense, curved brush hugs the nails for flawless application
Classic Shades: Creamy, wearable shades for your best dressed nails
8 Free: butter LONDON does not add Formaldehyde, Formaldehyde Resin, DBP, Toluene, Camphor, Ethyl Tosylamide, Xylene, or TPHP to any of its nail product formulas
All of our products are 100% authentic
ratings & reviews 1 review
Fang vera
Tea Time - beautiful nail polish
The colour is nude and very beautiful. The formula dries fast. It lasts on the nail for 3 to 5 days. I wouldn't say it's very long-lasting but it does not look too bad when chipped. LOOOOVE the colour!!!!!