EMPRO
Triangular Brow Pencil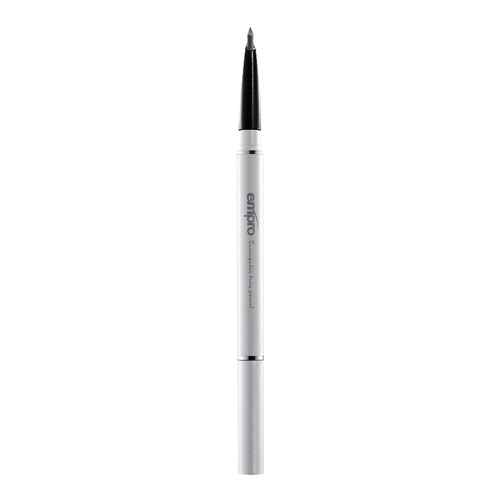 $29.90
$29.90
$29.90
$29.90
$29.90
E1 - Brown
E2 - Natural Brown
E3 - Golden Brown
E4 - Blonde
E5 - Natural Grey
Free Shipping above $40.00
About

Achieving the perfect brow with this unique eyebrow pencil could not get simpler than this! Fill in your brows with ease by adjusting and controlling the pencil's innovative triangular tip according to the thickness you desire. On the other end of the pencil is a brow brush that evens out the shade of your drawn brows. Not only is this great for makeup rookies, it is also not easily breakable and does not require sharpening.

Benefits

Uniquely designed to shape eyebrows naturally
Long-lasting formula
No re-sharpening required
Enriched with vitamins which improve eyebrow's root strength & health
Made with 100% natural ingredients
Comes with brow brush to even out shade
Suitable for beginner users

Mica, Hydrogenated Soybean Oil, Hydrogenated Coco-Glyceride, Iron Oxide, Titanium Dioxide, Hydrogenated Vegetable Oil, Zinc Stearate, Copernicia Cerifera (Carnauba) Wax, Stearic Acid, Polyglyceryl-2 Triphosphate, Iron Oxide, Iron Oxide (again & again?), Tocoperol, Capryl Glycol, Chromium Oxide Green (e3), Phenoxyethanol, Ascorbyl Palmitate, Hexyl Glycol

Starting with the inner corner of your brow, use the thick lead to lightly stroke upward towards the highest part of the arch. 
Use the thin lead to stroke from the arch to outer corner of your brow.
All of our products are 100% authentic
ratings & reviews 5 Reviews
Zohra abdullah
E5 - Natural Grey - AMAZING
Loved the product as a whole! The color i chose (Natural Grey) was perfect for me to style and shade in my eyebrows. I like that this shade gave my brows a natural look and how I'm able to easily fill in my brows and lengthen it at the same time as I have short eyebrows.
Es
E3 - Golden Brown - the best
that's how everyone has nice brows. Their brows look so natural and real. Packaging is simple but appealing. Love the fact that it's an auto pencil so you don't have to sharpen it. It's made from 100% natural ingredients so yay~ for the Earth loving beauties.
Tsubame
E1 - Brown - Fool-proof brow pencil
This is my second time purchasing this product. I usually go for very light makeup, and this brow pencil really does the trick...it's almost a fool-proof product for me (just to mention that I'm not very good in makeups, I need all my tools to be fool-proof to avoid looking hilarious). Would repurchase again. :)
Min chua
E3 - Golden Brown - Empro brow pencil in golden brown
Golden brown is not too dark and blends with my black brows nicely.  I like that this brow pencil does not require sharpening and that the color can be built up. The triangular shape pencil allows me to draw with more precision.  The spoolie brush that comes with it at the other end is made with soft bristles and is great for blending and making the brows look natural.
Sharmine goh
E5 - Natural Grey - Not bad
The colour looks very natural on my brows and thats what I love most about this brow pencil, plus the spooly at the end makes its very convenient for me to brush through my brows or clean off some of the colour to make my brows look even more natural. However, I gave it 3.5 stars because the consistency of the pencil isn't very good and its harder to apply on my brows. The colour doesn't show until multiple strokes, a little time consuming if you ask me.