Laneige
Silk Intense Lipstick 3.5g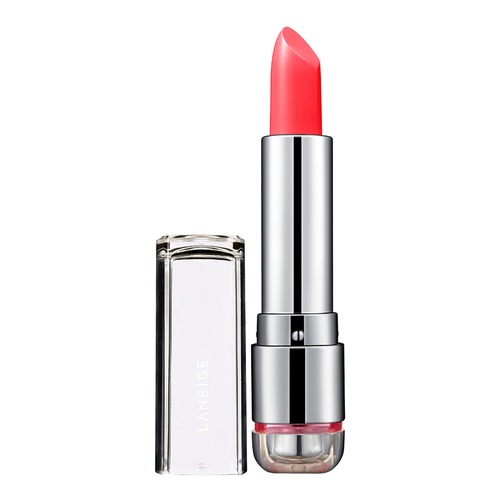 Silk Intense Lipstick 3.5g
3.5g
$34.00
$34.00
$34.00
$34.00
$34.00
$34.00
$34.00
$34.00
$34.00
$34.00
$34.00
$34.00
$34.00
$34.00
$34.00
$34.00
$34.00
$34.00
YR22 - Orange Flavor
YR324 - Miss Sunshine
SYR36 - Beige Chiffon
SR102 - Glam Pink
SR105 - Blonde Coral
SR118 - Privilege
DYR36 - True Brown
YR125 - Spangle
YR228 - Jealous
LR104 - Pink Garden
LR205 - Flash Light
LR207 - Clubbing
LR208 - Sound Mix
P44 - Peony
RP408 - Purple Fever
R16 - Royal Red
R19 - Midnight Wine
R217 - Define Red
Free Shipping above $40.00
About

Silk Intense Lipstick transforms your lips with clear and vivid colours. This hydrating and moisturising formula contains watery ingredients. Also, the pigments in this lipstick are downsized to enhance lip adherence and create attractive lip makeup with just a touch.  

Benefits

Delivers excellent adherence to lips
Long-lasting vivid colours
Provides immediate hydrating and moisturising effect

Before applying Silk Intense Lipstick, prepare lips by ensuring they are clean, and made smooth by a balm.
For a perfect lip shape, you may outline your lips with a liner similar to your lip colour.
Starting at the centre of your upper lip, apply lipstick outwards from one corner and follow to the other corner. Repeat the process on the lower lip.
Blot lips by pursing them together over a folded facial tissue. For the colour to last even longer, dust powder over your lips before blotting.
All of our products are 100% authentic
ratings & reviews 5 Reviews
Amy chan
LR104 - Pink Garden - Probably not for me
The lipstick colour is a coral pink (more towards the pink side), quite different from the barbie pink I'm seeing on my display. There's quite a bit of fine, multi-coloured shimmer in this, too much for my liking. Applies smooth and sheer, buildable. Feels moisturizing but my lips look somewhat dry. Wouldn't recommend this unless you have really smooth and moisturizes lips. 
Mel
LR104 - Pink Garden - Happy
I find this lipstick pretty lasting as compared to other japanese brand lipstick. The only downside is that it will tend to use up pretty fast probably due to it being too smooth to apply. Overall i'm really happy with this product and it compliments my skin tone. 
Nicole
LR104 - Pink Garden - smell and texture is off
This review is for the Laneige Pink Garden lipstick which i bought. The texture which is very dry on my lips  and smell is very different. I brought this up with Luxola and has a difficult  time returning this item. Luxola still refuse to refund. I am quite sure this is not genuine product. I won't recommend buying from this website. 
Samantha
SYR36 - Beige Chiffon - Shows up the fine lines on my lips
So, this is one of the lipsticks that Korean actress Song Hye Gyo wore in a drama and got them all sold out in a flash. She looked amazing in it (I watched the drama).  On me, a mere mortal? Not the same. The colour, though a beautiful nude shade, showed up the fine lines on my lips. Even though I put on lip balm before it already! Not flattering at all.  It's a nude lippie, so the colour doesn't last at all. Within an hour, it's gone. I have two other Laniege lipsticks too, both pink, and they fared better. 
Jasmine
SR105 - Blonde Coral - Typical Korean Lips
Laneige always have the best korean look lipsticks!  The best part of the lipstick is its lasting power. It is awesome! Even after eating and drinking, you could still see a hint of colour. It does not bleed. Somehow, it just makes your lips so natural looking!