Mario Badescu
Acne Repair Kit (set of 3)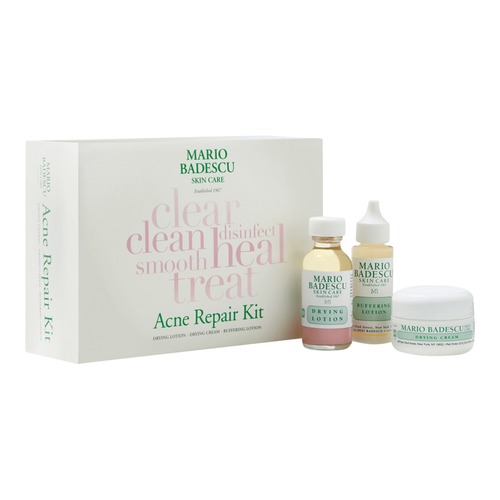 Acne Repair Kit (set of 3)
Drying Lotion 1oz, Drying Cream 0.5oz and Buffering Lotion 1oz
$85.00
Free Delivery
About

The Acne Repair Kit is a three-step skincare solution which diminishes the appearance of visible acne. It contains a proven acne-fighting formula that penetrates deep into the skin and prevent bacterial formation. Each product is designed to treat specific signs of acne such as bumps and redness while reducing possible irritation. This is set is also travel-friendly collection which you can bring along on the go.

This set includes:

Drying Lotion
Buffering Lotion
Drying Cream

Benefits

Drying Lotion

Dries out pimples, acne spots and whiteheads overnight
Safe on sensitive skin

Buffering Lotion

Contains Allantoin which soothes inflamed skin and promotes healing
Soothing and healing ingredients aid tissue regeneration on skin affected and damaged by acne
Suitable for combination and oily skin types

Drying Cream

Conceals and heals acne-prone skin simultaneously
Perfect under makeup or on its own

Drying Lotion

Isopropyl Alcohol, Aqua (Water,Eau), Calamine, Camphor, Sulfur, Zinc Oxide, Titanium Dioxide, Talc, Glycerin, Salicylic Acid

Buffering Lotion

Isopropyl Alcohol, Propylene Glycol, Zinc Oxide, Hydrolyzed Yeast Protein, Glycerin, Niacinamide, Panthenol, Allantoin, Biotin, Isopropyl Myristate, Stearalkonium Hectorite, Pyridoxine HCl, Propylene Carbonate

Drying Cream

Deionized Water (Aqua), Zinc Oxide, Aloe (Aloe Barbadensis Leaf Juice) Gel, Cetyl Alcohol, Lemon (Citrus Medica Limonum) Extract, Colloidal Sulfur, Ervol, Octyl Palmitate, Ichthammol, Polysorbate 80, Titanium Dioxide, Polyglycerylmethacrylate (and) Propylene Glycol

Drying Lotion

Use before bed and after cleansing regime. 
Do not shake the bottle. 
Immerse a cotton swab into pink sediment.
Apply gently but directly on affected area, and let it dry.
Wash and moisturise in the morning.

Buffering Lotion

Use nightly on affected areas.
Shake the bottle until sediment has completely dissolved.
Using clean fingertips, apply the solution to areas of cystic breakout.
Do not wash off till the following morning.

Drying Cream

Dab cream on pimple sparingly until it blends into skin.
Best when applied after moisturiser and before makeup
All of our products are 100% authentic
Learn more about the product
ratings & reviews 97 reviews
A y
Sudden break out and on the spot treatment
This is a GOOD set. However this should not be use every often as it dries the skin. I one time overdid it and ended up with my skin slightly peeling... Nevertheless this is good for those spot on breakouts that pops up once in a while due to weather and hormonal changes. This last quite long. Like really really a long time.
Syida johari
no good for sensitive skin
Skin Irritation. My pimples is quite small before using this. After using it, my face is getting worst until now and Im wasting 230 MYR for nothing. It did mentioned that the drying cream is not suitable for sensitive skin.
Qqq
Not bad
I think out of all brands that I tried,  This is one of the best brands (i  Had tried many of the drugstore brands) I don't have extremely bad skin but I do get spots now and then.  I spam the cream on my pimple n It will subside within a few days.  Pretty worth it for the price since  You only need a bit and it lasts forever
Shanty tumira
my holy grail acnet kit!
love love love this set. especially drying lotion. it works great on my pimples. white head, black head gone! the drying cream reduce redness before i put makeup on my face. only for buffering lotion i cant really see it works for me. definitely will purchase again, especially the drying lotion!!
Yenlin
YES!
Was hesitant to get this at first because I honestly just really wanted the drying lotion but during the Black Friday sale, I decided to go for it and I love the whole set! The drying lotion is as amazing as they say for spots and bumps. The buffering lotion is great for spots that are just buried under the skin, unwilling to emerge nor go down. As for the drying cream, I apply in on the erupted spots on my face and I notice redness goes away a lot faster and the scars (if any) heals better.
Anis
Life saver!
if you have suffer enough in looking for the "magic" product to cure your acne prone skin... look no further, these things are truly life saver! i especially like the buffering lotion. it acts as pimple controller. i always have a problem with pimple popping right outta my face on the next morning... but by putting these on it feels like i put on a shield for my face from pimple as well as curing it at the same time.
Abby chu
Great kickoff
This kit is a great bargain because it contains many of the brand's best acne-fighting products. It contains the Drying Lotion, Buffering Lotion and Drying Cream. I particularly liked the drying lotion, and the buffering lotion comes with a caution of not using it everyday as it can be too strong for the skin. to be frank, the products in this kit did not really work as no result was really seen for my skin.
Farah saleem
Definitely worth a try!
I have now used this product several times. I only tend to use it when I have a breakout but really does work. A little tedious and I tend to be lazy with using additional skin care on top of my usual moisturizer but still it does work fairly well and quick. That is what i do like about this.
Damien hammc
acne kit
this acne kit saves me every time acne attack. the combination of those items inside really speed up the recovery process. it may be to harsh for sensitive skin so it is advisable not to apply it too much.
Jin hsien choo
Not really a go for me
Mario badescu has always had rave reviews for the acne products so I decided to buy this set to try out. The drying lotion works for me only once in a while. When it works, the zits will disappear the next day. Other times it does nothing. The drying cream is also a miss for me, as it doesnt seem to be doing anything. However, it could possibly be due to the fact that i'm using them to treat subclinical acne, hence not as efficient as compared to actual zits.