Percy & Reed
No Fuss Fabulousness Dry Shampoo 150ml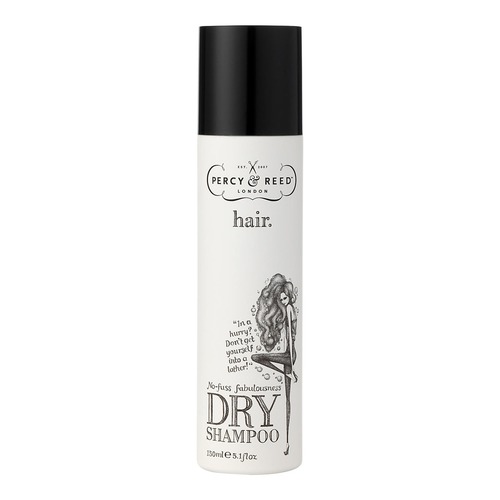 No Fuss Fabulousness Dry Shampoo 150ml
$26.00
Free Shipping above $40.00
About

Percy & Reed No Fuss Fabulousness Dry Shampoo gives your hair a beautiful 'just-washed' look even if you haven't the time to wash it. This unique formulation soaks up excess oil and cleanses the scalp, leaving your hair looking fresh, shiny and shimmering.

Benefits

Ideal for all hair types between washes as a quick-fix makeover for dull, lifeless, lacklustre hair.
Plumps up the hair to help revitalise style and shine.

Shake well before every use until you hear the 'formula activator' moving inside the can.
Use to refresh and revive the hair between washes.
For increased control and best results, spray onto a brush and work through the hair from roots to ends.
All of our products are 100% authentic
ratings & reviews 6 Reviews
Tiffywong
Alright only
Abit overpriced for a dry shampoo.. It's an ok product, does keep the oil at bay Will only repurchase if there's a sale 😃 I also don't like the nozzle which is quite tough to press and dispense product
Jayna n
Great product!
This product has saved me from my bad hair days especially in the morning when I am rushed for time / plain lazy to wash and blow dry my hair. I find that this also works better than the invisible version. Have been repurchasing this!
Sara
All time favourite
I've tried many different dry shampoos and this has to be my all time favourite. It absorbs oil very efficiently and does not leave the hair sticky (unlike some of the "invisible dry shampoos"). There is white powder but it's very easily removed by just running your fingers through your hair. Would highly recommend!
Priscilla seet
HG dry shampoo
This is my HG dry shampoo which I have purchased over and over again. I'm super pleased they now have a travel size option which is fantastic for me as I like to travel light. A little goes a long way and I like how my hair doesn't smell awful after spraying this to de-grease the roots.
Liz
Also works as a volumizer!
My secret: Don't use a volumizing hairspray if you need volume and softness. Just spray a bit of dry shampoo! Of course, it also works excellently for its intended use: Getting rid of excess oil build up.
Sarinah
Percy & Reed no fuss Dry Shampoo
Just like it said no fuss dry shampoo. Smells good. Have not tried dry shampoo before. It's more like hair spray. Not much wonders but worth a try. Will try other range available. Perhaps when the price is good.