Peter Thomas Roth
Blemish Buffing Beads For Face and Body 250ml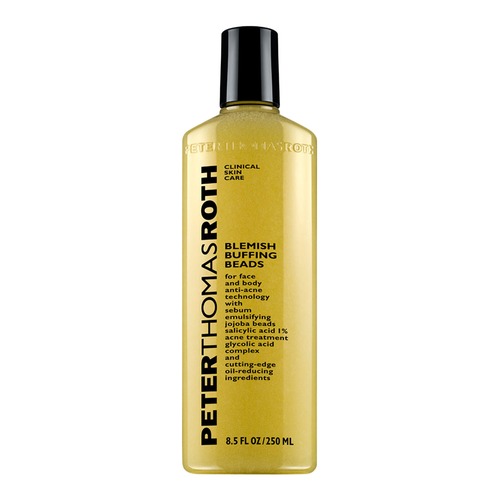 Blemish Buffing Beads For Face and Body 250ml
$69.00
Free Shipping
About

What it is: An ultragentle face and body scrub for blemish-prone skin.

What it is formulated WITHOUT: - Phthalates

Benefits

What it is formulated to do: This multitasking scrub contains powerful acne fighters such as salicylic acid, glycolic acid complex, and sepicontrol to support the body's natural process of cell turnover and sebum production. Jojoba beads gently exfoliate dead surface skin cells and unclog pores, whisking away loosened sebum to reveal smoother, clearer skin.

-Jojoba Beads: Gently help exfoliate and unclog pores. -Salicylic Acid (BHA) 1%: Absorbs sebum within the pores to discourage future breakouts. -Glycolic Acid Complex (AHA): Exfoliates dead surface skin cells and helps support natural cell turnover (chemi

Suggested Usage: -Recommended for the treatment, control, and prevention of acne. -Using a small amount on the fingertips, add water and gently exfoliate the face, chest, and body. -Use daily or as often as needed.

Precautions: -For external use only. -Using other topical acne medications at the same time or immediately following the use of this product may increase dryness or irritation of the skin. If this occurs, only one medication should be used unless otherwise directed by a doctor. -Avoid contact with eyes. -If excessive skin irritation develops or increases, discontinue use and consult a doctor. -Keep out of reach of children. -If swallowed, get medical help or contact a poison control center right away.
All of our products are 100% authentic
ratings & reviews 0 Reviews
There are no reviews for this item yet.