Sara Happ
Vanilla Bean Lip Scrub 30 ml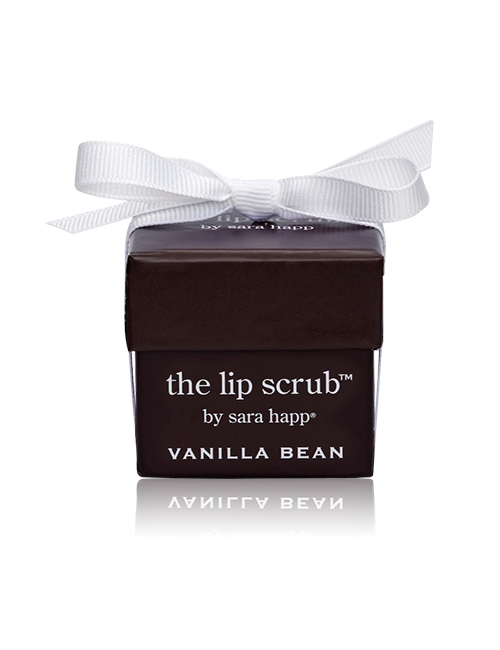 Vanilla Bean Lip Scrub 30 ml
30 ml
S$35.00
Free Delivery above S$40.00
About

Indulge and pamper your lips with this delectable lip scrub from Sara Happ which gently, yet expertly exfoliates lips, leaving them super soft. This best selling Lip Scrub, and the first one Sara created in her kitchen back in 2005, will leave you wondering how you ever survived without it. The perfect gift or self-indulgence, we've yet to find a girl who doesn't love this flavour! 

Benefits

Beautifully packaged, this heavenly scented and decadent vanilla lip scrub eliminates dry, flaky skin to leave lips ridiculously soft and supple. Sugar helps to scrub away dead skin cells whilst Jojoba oil prevents moisture loss from the lips and grape seed oil increases the skin's ability to repair itself all combined it leaves you with oh-so-soft lips. Kisses anyone? Gluten Free, No Animal Testing, Nonacnegenic, Noncomedogenic, Paraben Free, Sulfate Free, Vegan.

Sucrose, Petrolatum, Flavor, Caramel, Simmodsia Chinesis (Jojoba) Seed Oil, Vitis Vinifera (Grape) Seed Oil.
All of our products are 100% authentic
ratings & reviews 54 reviews
1234
Lovin' it!
Love the lip scrub! I usually have really dry lips. After using this as per the directions, my lips become really smooth and supple. It really exfoliates well with the sugar bits. AND it tastes great! It is pretty fuss-free and easy to use. And the small bottle can last me quite long.
Si hui tan
Very Nice Smell
Very nice smelling scrub and it is soft on the lips and yet function as it was marketed. However, i find the price rather pricey since it is such a small bottle. It does have a very lovely packaging. Good as a gift to your love ones.
Olivia haryanto
smells good
love this lip scrub, smells good and tastes good too.. Yummiest lip scrub ever!!! Been used almost everyday.. This is my second purchased from luxola.. little bit pricey but worth the price, leaves my lips soft and smooth.. it has very cute packaging too
Aishwarya miss
Sara Happ vanilla bean lip scrub
The scrub smells fantastic but does not fulfill its purpose much and does not live up to its price. It has large grains and alot is needed to scrub the lips. In addtion, it does not leave the lips moisturised
J
Moisturising but still slightly pricey for me
Was happy to finally get my hands on this lip scrub seeing how it's almost always sold out on Luxola. I didn't enjoy the artificial scent but the exfoliation works pretty well. Also, the price is pretty hefty for a scrub. 
Lydia devereaux
Unsure
I love the smell and texture of this product. It definitely leaves my lips feeling incredibly soft and it doesn't feel extremely dry afterwards. I have only tried this once because I'm nervous about wearing it again. I used it one night and woke up with a huge spot right on the edge of my lip line the next day. I'm not 100% sure that it's this product as it may have been hormonal. Either way, not super impressed and not really worth the high price tag.
Kylie tang
Sara Happ Lip Scrub - Vanilla Bean
I have dry lips and no lip balm helps. With this scrub, it clears up the dead skin and makes my lip soft and ready to be moisturized. My lips are in a much better condition then ever before. Loving this scrub and it smells so heavenly sweet!
Chimene lim
Smells soooo good, but really pricey!
New luxola customer here - and I'm addicted to buying things here because of the excellent service (Kudos, Luxola Team!). I decided that I needed this lip scrub because it has tons of good reviews and colour lip products never apply well on my lips no matter how "moisturising" it was touted to be. While most reviewers said that $35 was "worth the splurge"... I'm still sitting on the fence on that. Should have waited for a time when I could get the 20% off St. Pat's day sale but oh well... After my first use, Pros: - This smells HEAVENLY. I just love, love, LOVE vanilla scents! - There is a LOT of sugar bits, to scrub your dead skin off I guess! - It kinda does the job? - A little goes a long way - Applying Lip makeup looks better after using the scrub! Cons: - The $35 price tag - After using, I didn't feel like my lips were superrrr soft? I thought it would have that "new and wholesome baby lips effect" but I was wrong. However, It did make my lips just a tiny bit softer but I still felt I needed another scrub after 3 minutes of rubbing my lips. It didn't make all the dead skin go away, but maybe it's just me! - This made me feel like I could use a DIY lip scrub and reap the same effects Essentially I'm only loving it because of the scent and that my lip makeup does apply slightly better after using it! Probably need to scrub more, hahaha.
Nishtha gupta
BEST LIP SCRUB IN THE WHOLE WIDE WORLD :D
I was a little skeptical about this product, because it is either raved or dissed by many beauty bloggers . But when i used it for the first time Holy Mother Of God , I knew this is something am gonna repurchase over and over and over again : )  If you hate flaky lips or you like wearing a whole lotta matte lip colors like yours truly right here , then meet your new best friend .  " SARA HAPP The Lip Scrub in Vanilla Bean"  :*  Oh ! yeah one more thing before i go .... DO NOT i repeat DO NOT over exfoliate your lips ever , you really don't have to apply any pressure what so ever while using this product . Just apply it like a lip balm rub your lips together few times and wash off/wipe off and you are done   O:) Now meet your  "New born Baby lips "  yup they are your lips ;) 
Jiaxin ong
Yummy and quite effective !
Love the generous size of the product as you only have to use relatively small amount per usage so it's quite worth it in my opinion. The vanilla smells so yummy and the lisp will be so smooth after application! Downside will be that there's a slightly weird aftertaste. 
Luxola Singapore IS NOW
Sephora Singapore!
LX Insider members will automatically be enrolled into the Sephora Beauty Insider program, where you will continue to have access to beauty benefits. You can access your account here, by using your Luxola login details.
SHOP NOW