tarte
Clean Slate™ Poreless 12-Hour Perfecting Primer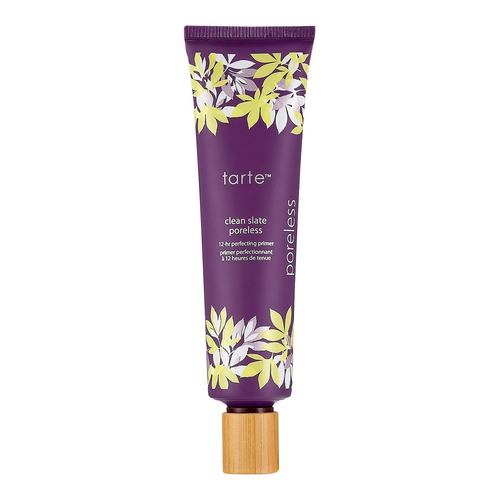 Clean Slate™ Poreless 12-Hour Perfecting Primer
$48.00
Free Delivery
About

This primer not only helps keep your makeup in place for up to 12 hours of perfect wear time, but also refines the appearance of pores and diffuses fine lines and imperfections while delivering natural fruit- and plant-derived extracts to deliver antiaging and skin-restorative benefits to your skin. It refines the appearance of pores and diffuses fine lines and masks imperfections. Just one application leaves skin looking instantly smoother, softer, and refined.

Size: 1 Oz.

Benefits

Formulated WITHOUT: Parabens, Sulfates, Phthalates
T5 Super Fruit Complex™: Loaded with naturally occurring, antioxidant rich nutrients and vitamins that have been known to deliver refining, antiaging, and skin-restorative benefits with each application.

Avocado Oil: Pressed from the fleshy pulp surrounding the pit, this natural oil is rich in vitamins A, B1, B2, D, E and protein and has known skin-soothing properties.
Echinacea Root Extract: Provides antibacterial properties that have been known to decrease inflammation and promote tissue regeneration.
Hibiscus Flower Extract: Contains antioxidant properties, which help to maintain the skin's elasticity.
Rosemary Leaf Extract: Derived from a shrub native to the Mediterranean, this natural herbal extract has been known to increase blood circulation.
Safflower Seed Oil: A vegetable-derived oil with deep moisturizing capabilities which has been used to treat eczema.

Cyclopentasiloxane, Dimethicone Crosspolymer, Cyclohexasilixane, Vitis Vinifera (Grape) Seed Oil, Lycium Barbarum Fruit Extract, Euterpe Oleracea Fruit Extract, Malpighia Punicifolia (Acerola) Fruit Extract, Punica Granatum Extract, Passiflora Incarnate Fruit Extract, Tocopheryl Acetate, Persea Gratissima (Avocado) Oil, Carthamus Tinctorius (Safflower) Seed Oil, Rosmarinus Officinalis (Rosemary) Leaf Extract, Hibiscus Rosa-Sinsensis Flower/Leaf Extract, Mica, Echinacea Angustilfolia Extract, Centella Asiatica Extract, Phenoxyethanol.

Smooth a pearl-size amount onto skin (pre-foundation), or dab under eyes and on eyelids for the ultimate clean slate.
All of our products are 100% authentic
ratings & reviews 17 reviews
Emma
Poreless primer
This product is great at giving your skin a smooth, poreless complexion but doesn't offer any oil control! Which for my oily/ combination skin  would have made this product amazing but unfortunately unless this product suddenly becomes more oil controllable I won't be repurchasing this product
Renee
Easy Apply
Great cruelty-free primer! It has been my favorite brand at all times! Great texture that make it very easy to apply. Provide long lasting make up finished and enhance the matte factor and keep it oil-free.. Love the scent of the Tarte Primer too! Will definitely repurchase.
Priya kumar
Primer
This primer is good for prolonging the wear of your makeup (even if you have oily skin). The texture is nice and smooth and not too oily like other primers. It does reduce the appearance of pores to some extent.
Sp
A little goes a long way!
This does help my make up stay longer though it doesn't keep the shine away as I hoped it would. My oily t-zone will start shining at about midday, though I'd have to admit it'll be even shinier without this product. A little bit goes a long way. I once made the mistake of applying too much and it made my makeup cakey. A thin little layer is all you need. Paired with Mufe makeup setting spray, my makeup lasts and lasts!  
Beautylover
Poreless peefection
Tarte have created a winner with this one.  Product is easily spreadable for quick application, it seems to melt onto the face and instantly cover up enlarged pores.  I love that the product is clear also, a lot of brands use a thicker white pastier consistency which I find is incredibly hard to avoid streaking and makes it harder to buff into the skin.  An absolute necessity for your prime/base kit!! 
Xyn
Smooth, I love it
Before this I was using the primers from Benefit & Make Up Forever, but I must say for Tarte, the application is smoothier! This primer makes your face feels smooth and also holds on to your make up, I love this one!
Celine
Amazing....
Such good products from TARTE. Will try more on TARTE brand as this Premier really amazing! it cover up my pore nicely and my skin look smoothly after apply the foundation. Would recommend those people with oily or combination skin. thumb up! 
Dana kalgovas
Great staple primer
This is a fantastic primer that leaves your skin feeling soft, supple and touchable. Controls my oils very well over the course of the day, and keeps foundation in place. It does feel quite thick to apply, but when smoothed out it melts into skin beautifully. A great staple for those who don't need illuminating/colour correcting in their primer.
Julia cricelli
Amazing!
I always had trouble trying to find a primer that wouldn't make my makeup wash away or become oily and patchy. This is my go to primer now! i love this formula a lot. it is smooth and oil free which is a BIG A++ for me because i do have oily skin. my makeup stays on all night and looks fantastic! best buy
Mh2
Wonderful primer!
Absolutely wonderful at smoothing textured skin, controlling oils and doesn't emphasise dry patches. I have dry/combination skin and usually use two primers in different areas to make my foundation glide on smoothly.. This does that and helps to prolong the longevity of my makeup. Great product!