Urban Decay
All Nighter - Liquid Foundation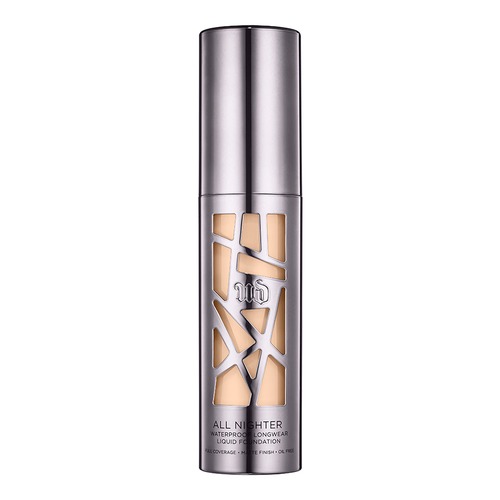 All Nighter - Liquid Foundation
$62.00
$62.00
$62.00
$62.00
$62.00
$62.00
$62.00
$62.00
$62.00
$62.00
$62.00
$62.00
$62.00
$62.00
$62.00
$62.00
$62.00
$62.00
$62.00
$62.00
$62.00
$62.00
$62.00
$62.00
0.5
1
1.5
2
2.5
3
3.25
3.5
4
4.5
5
5.5
6
6.5
7
7.5
7.75
8
8.75
9
9.75
10
11
12
Free Shipping
About

Got plans to reunite with your hot ex over late-night cocktails? Make sure your makeup has as much stamina as your date. Introducing All Nighter Liquid Foundation—makeup that stays up. It's the ultimate foundation for a flawless-looking complexion that won't quit.

All Nighter Liquid Foundation provides full coverage with a modern matte finish that never looks overdone. Get serious long-lasting wear and a blown-out effect you never thought was possible. Perfect for all-night affairs and other scandalous activities, our revolutionary formula is also comfortable enough to wear every day.

Benefits

While Naked Skin complexion products are demi-matte, All Nighter Liquid Foundation is completely matte—but never flat (and it's oil-free!). We loaded this formula with an insane amount of pigment (about three times as much as Naked Skin Liquid Makeup), so a little goes a long way. There's no need to build coverage or apply multiple layers. This waterproof, paraben-free formula diffuses light to blur flaws for beautifully perfected skin as it mattifies and absorbs oil to reduce the appearance of shine.

With a wide range of meticulously calibrated shades that align with our existing Naked Skin Liquid Makeup shades, it's easy to find your perfect match.

All Nighter Liquid Foundation comes in a sleek, edgy bottle that has a luxurious, highly metallized gunmetal effect with asymmetric cutouts. As cool as it looks, it's also practical; the shade is clearly visible, but the bottle never looks messy. It's also equipped with an airless pump—so it's easy to get out every last bit of product.
All of our products are 100% authentic
ratings & reviews 12 Reviews
Mala
7 - High coverage, long-lasting, oxidises, cakey
Firstly, be aware that this foundation OXIDIZES heavily. I got 1 shade lighter than my skin tone but still it looks orangey after 30 mins of settling on my skin. It has a good full coverage with a long lasting matte finishing. It can easily look cakey, settle on your wrinkles/smile lines and bring out any dry spots that you have on your face even with a high-end smoothing face primer and setting powder.
Leandra bay
2 - Full coverage!
The kind ladies at Sephora JEM gave me samples for the foundation in 2.0 and 3.0 as I can't decide on which colour suits my skin colour after seeing how much it oxidised... It definitely oxidised one to two tones darker than your skin colour for sure. But upon using it, it really lasts and gives better coverage than the other foundations I have . I don't use it on my whole face but use it only on areas where I need more coverage and I can skip my concealer! Has the tendency to look a little cakey so avoid area like your nose or just use whats left kn your beauty blenders or brush to apply. Overall good foundation to have.
Fazli ahmad
7 - U better work bitch!
Love a matte, long lasting high coverage finish? This foundation is what you need in your life. After perhaps 12 hours of teaching and doing admin, this foundation remains intact with an intensity of 2/10 for oil peeking through. Ithe claims that it oxidizes is not entirely true for my skin(oily mainly My foundation oxidized perhaps 0.5 shade up at most. Go to sephora and swatch and walk around with it the whole day. You are in for a surprise! Makeup tips: apply with stippling brush followed by a beauty sponge. Avoid cocktailing your foundation! So far it somewhat works well with my MUFE HD foundation. Shade matches: NC42/43 Nars syracuse Mufe y435 Bobbi brown golden
Sienna chan yu xian
4 - Good for asian skin
The shade I got was 4.0 which is very very yellow-toned. Very suitable for Asian skin. The coverage is also very high but it tends to highlight dry patches after a few hours. Would suggest using a damp sponge to apply.
Celeste lau
3.25 - Good coverage.
A little bit goes a long way. It applies light but quickly oxidises, so get a shade slightly lighter than you think you need. Coverage is buildable, covers as well as you need it to. Stays on well, but can get cakey with any finishing powder.
Nuryuszairah yacob
6 - Thumbs up!
Not an everyday kind of foundation as it is quite thick and full coverage. A little goes a long way! Definitely work on small section at a times as it will get hard to blend out once it sets. Something to take note that the foundation do tend to oxidizes once it start to set. Definitely go to Sephora and test out the shades which is suitable color match for you.
Felicia
2.5 - Average
I bought this under the recommendation of friends. As the name suggests, it is really an all nighter foundation. It stays on almost all night but it's a bit too thick for my liking. I usually mix it with my serum to make it a bit thinner and also to make it less drying on my skin. I had a bit of trouble trying to find the correct shade as well and I often have to mix my foundation to get the correct shade.
Annie kwan
3.25 - Super drying :(
I was actually quite excited to get this because of all the raves on YouTube. But I was quite disappointed at the product. :( It's super hard to blend and its super patchy., maybe it's because I have extremely dry skin :( But I must say, this is extremely full coverage! As a conclusionew, this is definitely a love it or hate it product!
Famallina
3.5 - Cakey
Not a big fan of this foundation. Cakey and too thick in my opinion. Definitely not for someone who wants to achieve that natural looking skin. It looks pretty decent from far but up close, it settle on my smile lines and near my nose area.
Huey ling ng
3.25 - Great Foundation
It is a wonderful foundation that does what it claims. The coverage is extremely high and a little goes a long way. The consistency is very thick so it can be a little hard to buff out. It works better with a damp sponge. It also lasts pretty well in terms of pigmentation however is not completely sweat resistant. In humid environments, it can separate slightly especially in the T zone but blotting regularly can help preserve it for a longer time. Compared to the UD Weightless Ultra Definition Liquid Foundation, it is around 0.25 or 0.5 shades lighter.