ZOEVA
Rose Golden Palette 10 x 1.5 g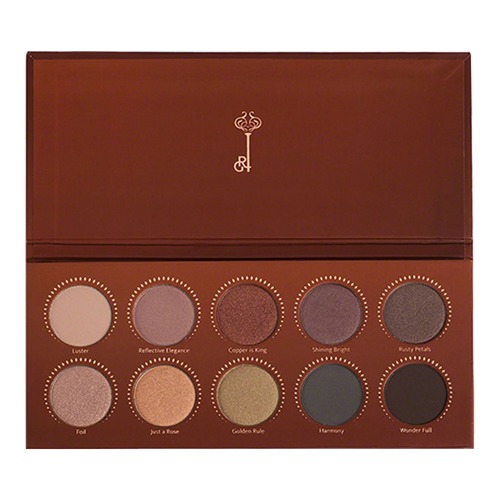 Rose Golden Palette 10 x 1.5 g
$36.00
Free Delivery above $40.00
About

Another quality product from ZOEVA. The Rose Golden Eyeshadow Palette contains 10 different shades ranging from rose gold to dark browns, and matte to shimmery finishes. It prides itself with great colour payoff and lasting coverage without the concern for creasing.

Benefits

Free from parabens, mineral oils, fragrances and phthalates

Superior pigmentation 

Easy to blend 

Formulated with vitamin E

Apply primer on your eyelids to maximise the coverage of the eyeshadow.

Use an eyeshadow brush to apply the desired shades and achieve a glamorous look.
All of our products are 100% authentic
ratings & reviews 95 reviews
Dan frost
Blend like a PRINCESS
As a makeup artist, I love this palette to use on gals who have special occasions during night time because it gives the radiant, strong yet soft look on girls and it is mostly stunning on them. in addition, it's so creamy, pigmented and super blend-able at the same time. This palette has a mixture of foils and nudes shades but the majority of the shades are on the foil side; the bad side of this palette is that you need an extra palette for the base and for the crease but all in all, I like it and would recommend this to all gals for its amazing pigments. You'll definitely look like a princess afterwards. 
J
Review
The pigment of this palette definitely met my expection. The eyeshadow Colours are lovely too. Would love it more if the packaging is more sturdy, but for the price this is definitely worth it as it can give a wide range of eyeshadow Colour combinations.
Jo wheatley
Love it
This eyeshadow pallette is definitely value for money. The colours are super pigmented and buttery soft to blend. I really enjoy most if not all the colour variety. I like the packaging as it is clean and slim. Despite being made out of cardboard, it is super durable and strong.
L
Every girl needs some rose gold in her life
Simple design but gorgeous colours when swatched. I knew i had to get it when i first saw this palette. I love me some rose gold on my eyes. The colours are pigmented and a little goes a long way. Would definitely recommend this palette to any girl looking for pink/ gold on her eyelids. 
J.l
Lots of LOVE
Zoeva eyeshadow palette never fail me at all. The special Rose golden palette gave me a beautiful stunning eye look that I always dream of. The combination of the colour are gorgeous, plus good quality and long lasting making me enjoy using this eye palette all the time. Nothing more to say about it. Just get em!❤️
Jo
Cool
Palette is very pigmented and blendable. The colours are neutral enough to suit any outfit. Would highly recommend this palette. The shadows smell great, if you are those types who like to smell the eyeshadows.
Joan
Buttery smooth
They are buttery smooth and pretty good in terms of pigmentation with minimal fallout. However, the some shades come across similar when applied on the eyelids. Overall, Zoeva eyeshadows are totally worth the hype given the price point.
Lee yin yin
Rose Gold Eyeshadow
The packing is very pretty and overall a good eyeshadow palette to have in your collection. But , the light colour not so pigment and not long hours maybe 2-3 hours if weather not so hot. Overall, it is very pretty eyeshadow pallets.
Zaidah
Amazing palette!
i have never ever tried a zoeva product before. Was kinda intrigued by the colours on this palette. And when i finally got my hands on this palette i cant believe this palette is not getting the hype on youtube. It may look dull but when swatched the colours are amazing! Lovin every single colours on this palette! And worth the money spent!
Fana
Super pretty Palette !
The colors in this Palette are really pigmented and extremely gorgeous ! Love love love it ! <3 Sooo worth the price and the packaging is really beautiful. Overall, I love everything about this Palette!